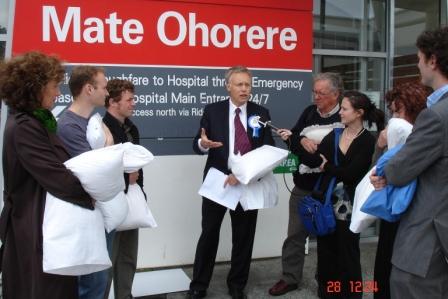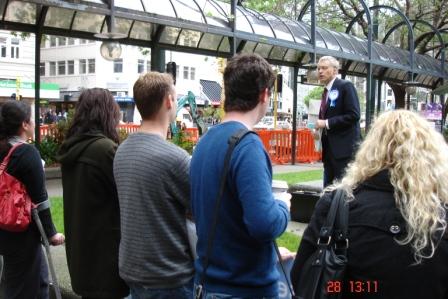 I've spent this morning outside the Wellington Hospital and in Midland Park highlighting the appalling health care shortfalls in Wellington. If it wasn't for the dedicated staff who have kept the hospital and health services going, patients would be getting even slower treatment and care.
My team today had pillows with them to highlight the long hours and even days people may have to wait to be seen at the Hospital.
One of our campaign team brought it home to us. She was in the emergency department for 48 hours because there was no room in the wards.
So we think it is a good idea to grab a pillow before dialing 111, as you could wait for days, with no guarantee there'll be enough beds once in hospital.
I wanted to highlight the fact that the new hospital has fewer beds for patients, despite the aging population. The new Children's Hospital was cancelled and the money squandered elsewhere.
This morning's Dominion Post front page story of fatal failure is another in a long series of reports.
I get more questions and comments about this issue while I'm canvassing than any other. Senior medical staff have made a point in coming to me with their view of the situation.
You can't keep blaming the staff. Labour should be unelectable in Wellington if elections hold local politicians accountable for what has happened on their watch. It's shameful. Where was local Labour while all this was going so wrong?
I've heard the Wellington Central Labour candidate trying to justify the shrunken hospital. He says people can 'go to Kenepuru instead, or they'll be cared for in the community'.
Annette King was the Minister of Health while the shrunken hospital plans were finalised. What part of 'the community' will give our aging population more beds? Did she expect no growth in Wellington?".
People are even being sent to Australia for services. There's a small consolation for those who want a New Zealand trained doctor. Australia is where many of our doctors and nurses have gone.
Having helped run a big law firm, I expect professionals to have the final say. I'm struck by the helplessness of frustrated doctors and nurses who are subordinate to non-medical management. And even good management has to dance to the tunes of political theory.
Wellington's leadership has been unbelievably passive over the deaths caused by substandard local services. Wellington deserves so much better, including a local MP who'll stand up and fight for Wellington. I'll do that, without fear or favour.