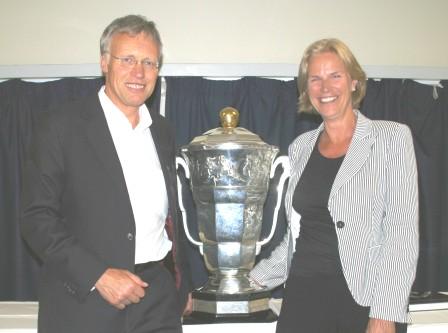 Yes, it's the real thing. The Rugby League World Cup, brought to Wellington last night by the Chairman of the NZRL, Ray Haffenden, for the Wellington Rugby League Prizegiving. I think everyone at the function had their photo taken with it so Cathy and I weren't going to miss out.
It was a great evening at the Petone Workingmen's Club, the first WRL prize-giving for six years. The coach of the Melbourne Storm, Craig Bellamy, saluted grassroots clubs, their volunteers, coaches, managers and players. He's here to run some clinics this weekend, casting his eyes over our players too.
WRL Patron, the Hon. Winnie Laban, was very keen on ceremonies to honour volunteers when she agreed to become our patron. Last night's prizegiving celebrated volunteers and winners. Kiwi Fern, Karen Taingahue, from Wainouiomata is the 2008 WRL Sportperson of the Year.
As WRL Chairman, I'm sorry to be losing our excellent CEO, Mark O'Connor, and his offsider, Marge Hocken, to Swimming New Zealand at the end of the year, but grateful for what they've helped to achieve – resurrecting Wellington governance of the sport here.